My small contribution to the GoS theme for June: 'Creature Feature'. Not just recolours, but gradient recolours (can you tell I was rather chuffed with this idea when it popped unbidden into my head?!)...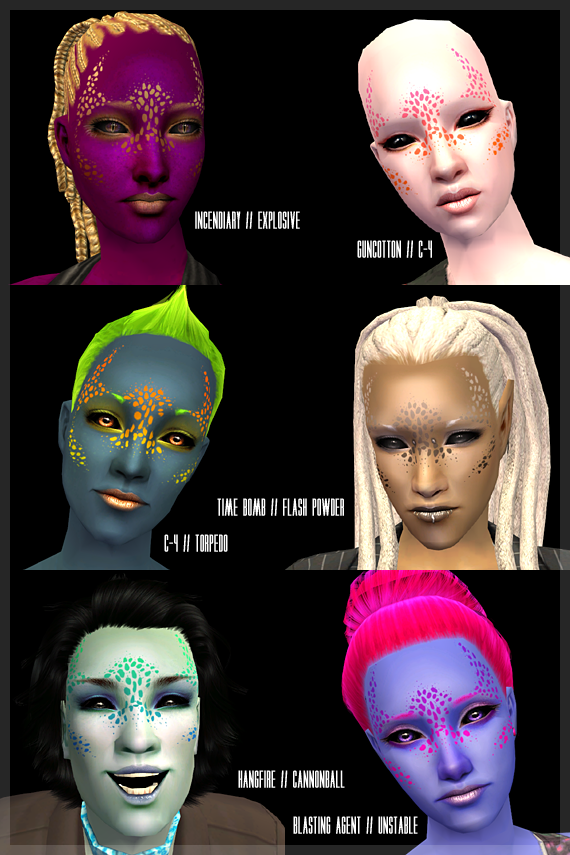 OK, so you get five recolours based on Pooklet's natural shades, graduating from one shade to another:





Plus five single-hue unnatural recolours:





And a further 18 multi-hue unnatural recolours:





For all ages and both genders. Layerable with other full-face costume makeup (freckles, piercings and what-have-you), but not with each other.




DOWNLOAD ALIEN SPOT RECOLOURS



As a bit of a bonus, I also made some additional alien recolours of my 'Nothing Like the Sun' eye set (as modelled by a couple of the gals in the preview above). They come in custom, geneticized, geneticized + towniefied and default flavours - swatches showing the colours are below.




DOWNLOAD CUSTOM ALIEN EYE RECOLOURS // DOWNLOAD GENETICIZED ALIEN EYE RECOLOURS

// DOWNLOAD GENETICIZED & TOWNIEFIED ALIEN EYES //


CLICK ON THE THUMBNAILS TO DOWNLOAD THE INDIVIDUAL DEFAULTS:







CREDITS:

Fantasyrogue for the original spotted alien skintone, and Petchy for extracting the spots from Fantasyrogue's skintone (I think, forgive me if I got this wrong).

Pooklet for the splendid colour actions, as always!

Resources for the eye recolours were variously from Yumedust, Jesstheex, bondchick_nett and Pooklet, with a bit of me thrown in for good measure.